Tree Surgery Walthamstow E17
Are you having problems with trees overhanging your home, or a dangerous situation with a damaged or ageing tree? If so, we can help you! Our service for tree surgery Walthamstow E17 is one of the area's most highly regarded options for professional tree felling and pruning, We have over ten years' experience as the provider of the region's premier tree surgery service, so we've got the expertise and technical skill to take care of any tree-related problems you might be having! We're equipped with only the finest tools and equipment too, so you'll know that your getting the best service around. Head on over to our reviews page and hear from our previous clients on the subject of why they chose us to be their tree surgeons!
Our every tree surgeon Walthamstow E17 is a fully job-certified and qualified professional, capable of handling the full gamut of tree felling and tree pruning tasks. You'll be able to designate from our wide variety of useful skills, including:
Stump grinding
Tree trimming
Crown reduction
Milling
Dismantling
Dealing with dangerous trees… and much more!
Simply give us a call if the service you need isn't covered by this list – the tree surgeons Walthamstow will certainly be able to help you!
Why Hire a Tree Surgeon Walthamstow E17?
Our service for tree surgery Walthamstow E17 is unmatched in terms of quality of service, and customer satisfaction delivered. We won't leave until you're completely happy with the work we've done! Tree surgery is a precise science… and with the skills of the team you know that you'll be booking a gardening service that has the expertise to get the job done right. But we're immensely affordable too! And you can combine our tree surgery service with any of our other useful gardening options, like our garden maintenance or jet washing services, and make some amazing savings!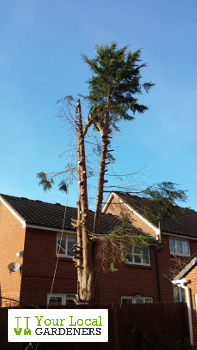 Plus, we offer the additional convenience of being available for bookings in the evening or at the weekend at no extra cost! If you need a tree surgeon Walthamstow E17 at an unusual time or at short notice, don't hesitate to give us a call!
Book Your Tree Surgery Walthamstow E17 Now
Give us a call now – on 020 3746 1898. We keep our phone lines open and fully staffed 24 hours a day, 7 days a week. You'll be able to get a free, no obligation quote on tree surgery Walthamstow E17 at any time, and also get any questions answered by our helpful customer care team.
You can also reach us via the web to request a service of a tree surgeon Walthamstow E17, or to get a free quote.